Do You Have a Backup and Recovery Plan?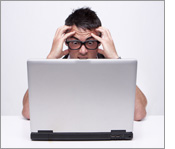 If you're a business manager, business owner, or corporate executive, you'll probably agree with me that your data are the most value asset you have when it comes to the survival of your business if a disaster should strike.
"U.S. Department of Labor estimates over 40% of businesses never reopen following a disaster. Of the remaining companies, at least 25% will close within 2 years. Over 60% of businesses confronted by a major disaster close by two years, according to the Association of Records Managers and Administrators." - About small business info
It's alarming that over 40% of businesses do not reopen following a disaster! So my question to you is: What are you doing to prevent this from happening to you? Disaster could come at any time and in many forms, including a major storm, fire, flood, theft, data corruption, hard drive failure, and even national disaster.
Business on the Go with Tablet Devices
Anticipation for Apple's iPad, the company's entry into the nascent "tablet PC" market, has been building especially since it hits retail stores this April. While early adopters such as Apple fans, tech mavens, and fashionistas are widely expected to become the first customers for the device, it seems that business users are not that far behind.
Why Investing in Technology can Actually Save you Money
Money is tight and hard to come by, and a lot of companies are looking to cut costs and sacrifice the non-essentials. For many, taking off a chunk out of the IT budget is one of the ways to try to save money.
However, when it comes to IT services, chances are a bit more investment may actually save money in the long run, since many technologies make operations more efficient and increase of productivity.
Make the Windows 7 Taskbar Work More Like Windows XP or Vista
The single most visible change in Windows 7 is the new "dock style" taskbar, which shows icons instead of buttons, with all application windows combined within a single button. The first question many people will have is "How do I turn it off?" – and this article will show you how.
Published with permission from TechAdvisory.org.
Source.
Add the Quick Launch Bar to the Taskbar in Windows 7
The new Windows 7 taskbar allows you to dock items to the taskbar, combining the features of both the normal taskbar as well as Quick Launch. But what if you want to bring back the Quick Launch Bar to the Taskbar in Windows 7?
Published with permission from TechAdvisory.org.
Source.